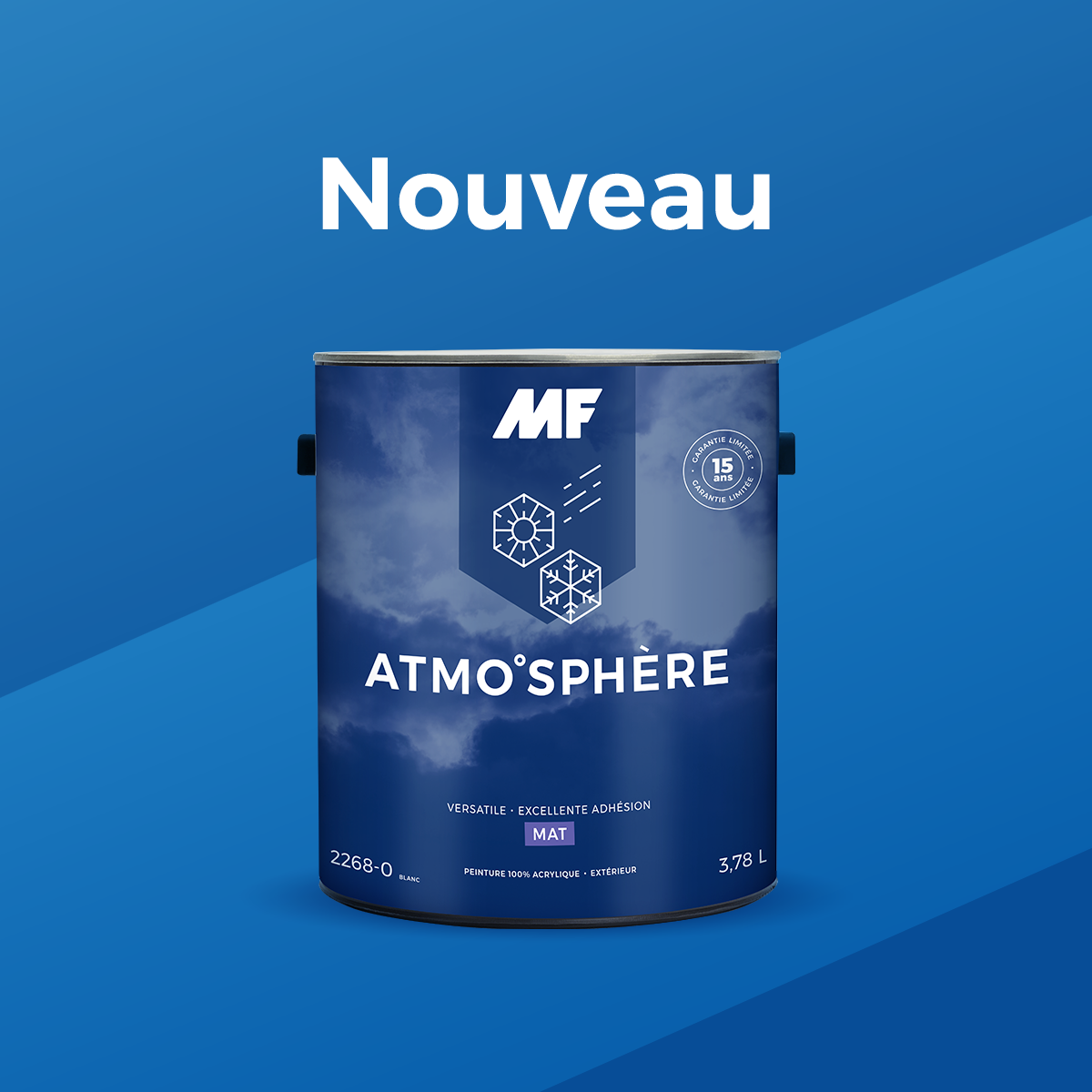 The perfect way to refresh your exterior siding
If you want to paint the exterior of your home or commercial business and are looking for a long-lasting solution, MF Paints has what you need. Our dedicated research and development team has worked hard to create a high-quality product that meets your exterior painting requirements. Here are just a few of the benefits of our new Atmosphere paint.
Premium features
Atmosphere's 100% acrylic latex paint meets Canada's volatile organic compound (VOC) standards and is designed specifically for exterior use. Its high permeability makes it ideal for porous surfaces that require increased air circulation. It can also be cleaned multiple times using warm, soapy water without affecting its appearance. Additionally, Atmosphere paint has good colour retention and UV resistance to keep it looking as good as new for years to come.
Atmosphere paint contains a mildew-resistant preservative. The thermoplasticity of the paint film also provides excellent flexibility, which allows the coating to follow the natural movement of wood to prevent premature deterioration.
Finally, it's available in both a matte (Atmosphere 2268) and satin (Atmosphere 2260) finish. You can also choose from a variety of light and dark colours to suit the needs of your project, no matter what the size. The paint's premium features will keep your siding looking its best for up to 15 years.
Quick and easy application
Atmosphere paint can be applied to properly prepared vertical, exterior surfaces. For best results, avoid applying it in direct sunlight or at temperatures below 5°C.
Before painting, the surface must be clean, dry and free from dust, oil, grease, rust and soap. If the area is covered in mould, wash it with a mixture of one part bleach to three parts water before rinsing thoroughly and allowing it to completely dry.
If you're applying Atmosphere paint to a wood surface, it must be properly sanded to open the
wood fibres and improve adhesion. It's recommended that concrete and masonry surfaces be mechanically sanded or washed with a muriatic acid solution. In addition, galvanized metal and aluminum surfaces should be cleaned using a degreaser. Taking these steps will ensure the paint goes on smoothly and properly cures.
Furthermore, you may need to apply a primer to previously painted surfaces before starting. If you need advice on which product to use and how to use it, contact your nearest MF Paints retailer.
Once you've prepared your surface, apply two coats of paint using a 15 mm lint-free roller and a high-quality nylon-polyester brush. You should allow light colours to dry for at least four hours and dark colours to dry for at least 12 hours before applying a second coat.
Simplified maintenance
Once you've painted your siding, you should wait at least 30 days before cleaning it for the first time. From then on, you can simply use warm, soapy water to wash the surface without damaging the paint.
To ensure the paint continues to look its best, perform a yearly visual inspection, making sure to look for signs of cracking and peeling. If you need to make touch-ups, lightly sand the affected area before applying two fresh coats of paint. Doing so will help protect your siding from wear and tear for several years.
MF Paints: your go-to paint specialist
At MF Paints, we strive to develop effective products that meet the needs of all Canadians. You can get advice and inspiration for your residential or commercial project by visiting our website. To learn more about our products or to purchase our new Atmosphere paint, visit one of our retailers located near you.