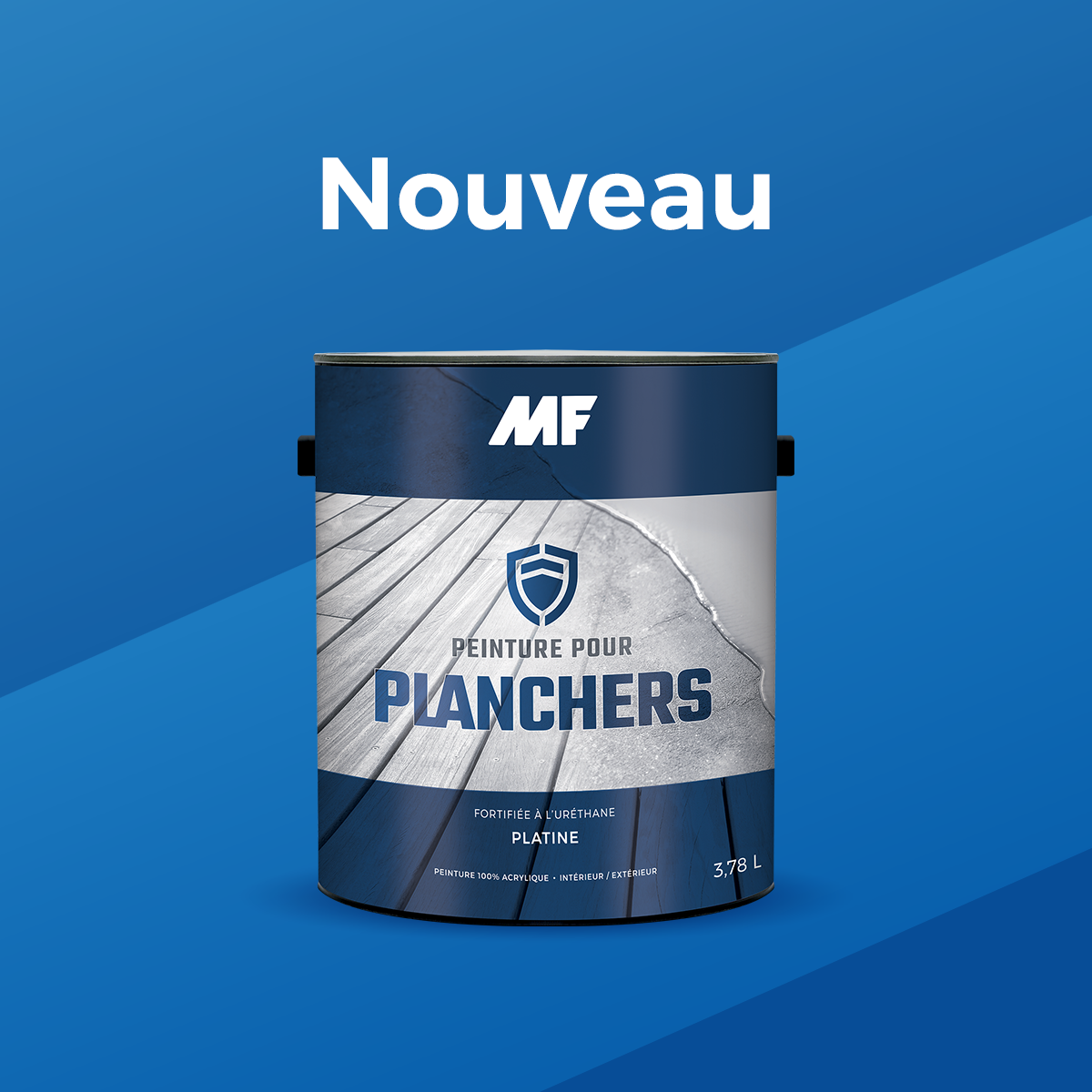 Floor Paint 3500: great for interior and exterior flooring projects
MF Paints is proud to introduce its newest product: Platinum Finish Floor Paint 3500. It's a versatile, weather-resistant and low-maintenance product that's suitable for interior and exterior floors. As your paint specialist for over 50 years, MF Paints would like to introduce you to the features of this high-quality paint product to ensure you get the best results.
Suitable surfaces
Floor Paint 3500 can be applied to properly prepared and primed interior and exterior floors. It's easy to apply, dries quickly and offers a durable finish on the following materials:
Aluminum and other metals
Brick
Fibreglass
Concrete
Red cedar or redwood
Solid wood
Plywood
Alkyd painted or stained surfaces
Latex painted or stained surfaces
If you want to paint your basement floor, porch, deck or balcony, Floor Paint 3500 will do the trick. However, this product isn't suitable for floors that will be in contact with tires, such as a garage. If you want more information on the product's limitations, please read through the technical data sheet or ask your MF Paints retailer for details.
Dependable features
Floor Paint 3500 is an easy-to-apply, 100% acrylic fortified polyurethane paint with a platinum finish. It's a premium product that can provide long-lasting, beautiful results for a variety of residential applications. Here are some of the benefits of this paint:
It's waterproof
It's breathable
It doesn't yellow or fade
It has excellent flexibility
It's moisture resistant
It's easy to maintain
It resists chipping, cracking and splitting
It has good colour retention
It's UV resistant
You can speak with your local MF Paints retailer to find out if Floor Paint 3500 is right for your project.
Application instructions
For best results, you should avoid applying Floor Paint 3500 in direct sunlight and at temperatures below 10 C. In addition, it's recommended that flooring made of solid wood, fibreglass and concrete be at least 28 days old before being painted.
As a general rule, the floor surface should be clean, dry and free from dust, oil, grease, rust and soap. It's important to clean any previously painted surfaces with a degreaser such as TSP to improve adhesion and ensure the product properly cures. In addition, some surfaces, such as concrete, metal and wood, may need to be sanded or painted with a specific primer to maximize results. For full details, consult the Floor Paint 3500 technical data sheet or speak with your nearest MF Paints retailer for advice.
Floor Paint 3500 is a ready-to-use product and doesn't need to be diluted. Simply mix well and apply three coats for optimal durability. You should allow light colours to dry for at least four hours and dark colours to dry for at least eight hours between each coat. Once you've painted the floor, we recommend waiting at least 24 hours before walking on it and 14 days before cleaning it for the first time. If you want to create a non-slip surface or use an airless sprayer to apply this product, please consult the technical data sheet for the correct procedures.
MF Paints: paint products for any project
At MF Paints, we take pride in creating high-quality products that allow you to add the perfect touch of colour to your interior and exterior projects. We carry paints, stains, primers and more to help you bring your residential, commercial and industrial projects to life. Check out our website for helpful tips or visit your nearest MF Paints retailer to get personalized advice.