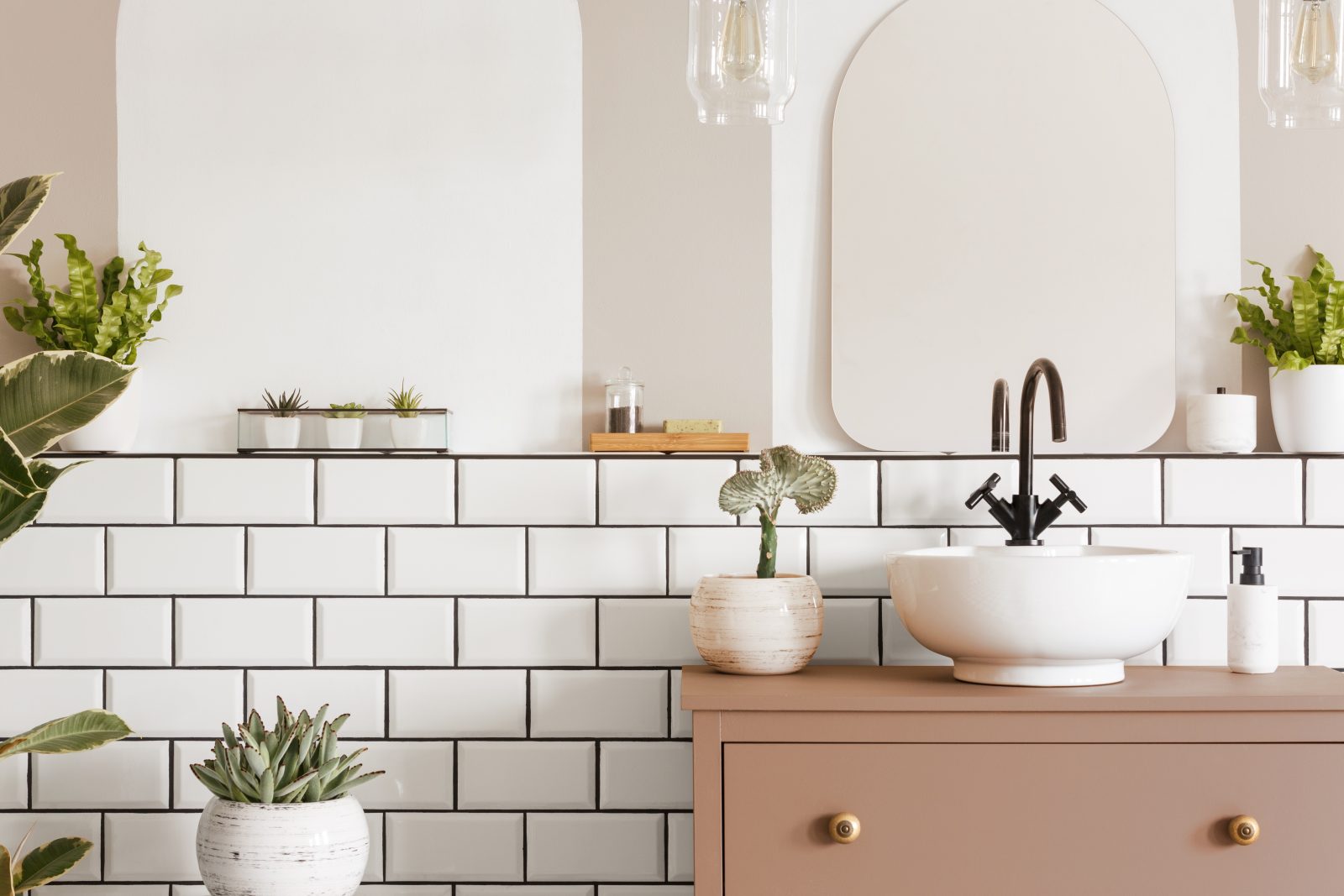 Painting your bathroom isn't as simple as painting the other rooms in your home. Since this space frequently comes into contact with water, it requires a specialized paint to ensure optimal performance and prevent the formation of mould. However, the best way to protect your bathroom from excessive humidity is to invest in a good extractor fan that's suitable for the size of your room.
The experts at MF Paints, your one-stop-shop for quality paints in Quebec, have put together eight tips to ensure your bathroom painting project is a success.
Clear the space
Remove anything that could get in the way while you're painting. This includes things like picture frames, artwork, towel rails, hooks and shelves. If your toilet butts right up against the wall, it's probably best to remove so that you don't have to worry about painting around it. If you decide to keep your toilet intact, make sure you have a paint brush that's narrow enough to reach behind it and get in all the nooks and crannies.
Clean the walls
Over time, it's common for soap scum to accumulate on your bathroom walls, leaving behind yellowish, greasy-looking streaks. To get rid of these marks, use a mixture of one-part TSP to four-parts water. Then, wipe down your walls with warm water and let them dry completely before painting. To reduce the likelihood of this happening again, you may want to consider replacing your bathroom extractor fan with a more powerful model to reduce the amount of moisture that clings to your walls.
You can also take this opportunity to inspect your walls for cracks and holes. If you need to make repairs, make sure you wipe away any dust to ensure the paint properly adheres.
Protect other surfaces
Cover furniture and mouldings to avoid splattering them with paint. For example, you can use old bed sheets or large pieces of plastic to protect your vanity, bathtub and flooring. You should secure these coverings with painters' tape to avoid damaging the surface or leaving behind a sticky residue.
Choose your paint
Since bathrooms are constantly exposed to humidity, it's essential to choose a paint that's specifically designed for a damp environment. The paint you choose should be labelled kitchen and bathroom, as this type of paint effectively repels mould and mildew. For added protection, opt for a pearl or semi-gloss finish. These types of finishes are durable and easy to clean. If your bathroom doesn't have good ventilation, keep in mind that you may need to periodically wipe down the walls to prevent drip marks.
At MF Paints, we carry Portico and Summum products for painting your bathroom walls, as well as Designer Plus 2050-0 and Summum 3100-0 for the ceiling.
These paints are available in different finishes and colours. They're easy to apply, provide good coverage and are straightforward to clean. What's more, they contain a fungicide that prevents the growth of mould and mildew.
You should choose a colour that matches your bathroom's furnishings and flooring. However, if you have a small bathroom, opting for a lighter shade can make the area feel more spacious.
Allow sufficient drying time
You must give the paint enough time to dry before using the bathroom. You should wait at least 48 hours before taking a shower. After one week, you can use the bathroom as you would normally.
Clean your tools
It's important to follow the recommendations listed on the product's technical data sheet for cleaning your brushes and rollers. This will help keep them in good shape and improve the painting experience. Generally, cleaning your tools with warm soapy water should do the trick.
Consult the product's technical data sheet
Before you start painting, take the time to carefully read the product's technical data sheet. It contains a lot of useful information, including:
The product's characteristics
The product's limitations
The drying time between coats
The maintenance instructions
The most suitable primers
The best brushes and rollers
If you have questions about how to prepare your surface or apply the paint, you can contact an MF Paints representative for personalized advice.
Repaint as needed
If you've chosen a high-quality paint, you'll be able to maintain it and keep it looking it's best for years to come (provided you follow the instructions on the product's data sheet). However, you may need to occasionally touch up certain spots or apply a fresh coat to brighten up the look of the room.
MF Paints: high-quality paints guaranteed
MF Paints has been designing high-quality paints for over 50 years. Whether you want to paint every room in your home or give the exterior of your property a facelift, we have a product that meets your needs. Visit your nearest MF Paints retailer to get everything you require to complete your next project.