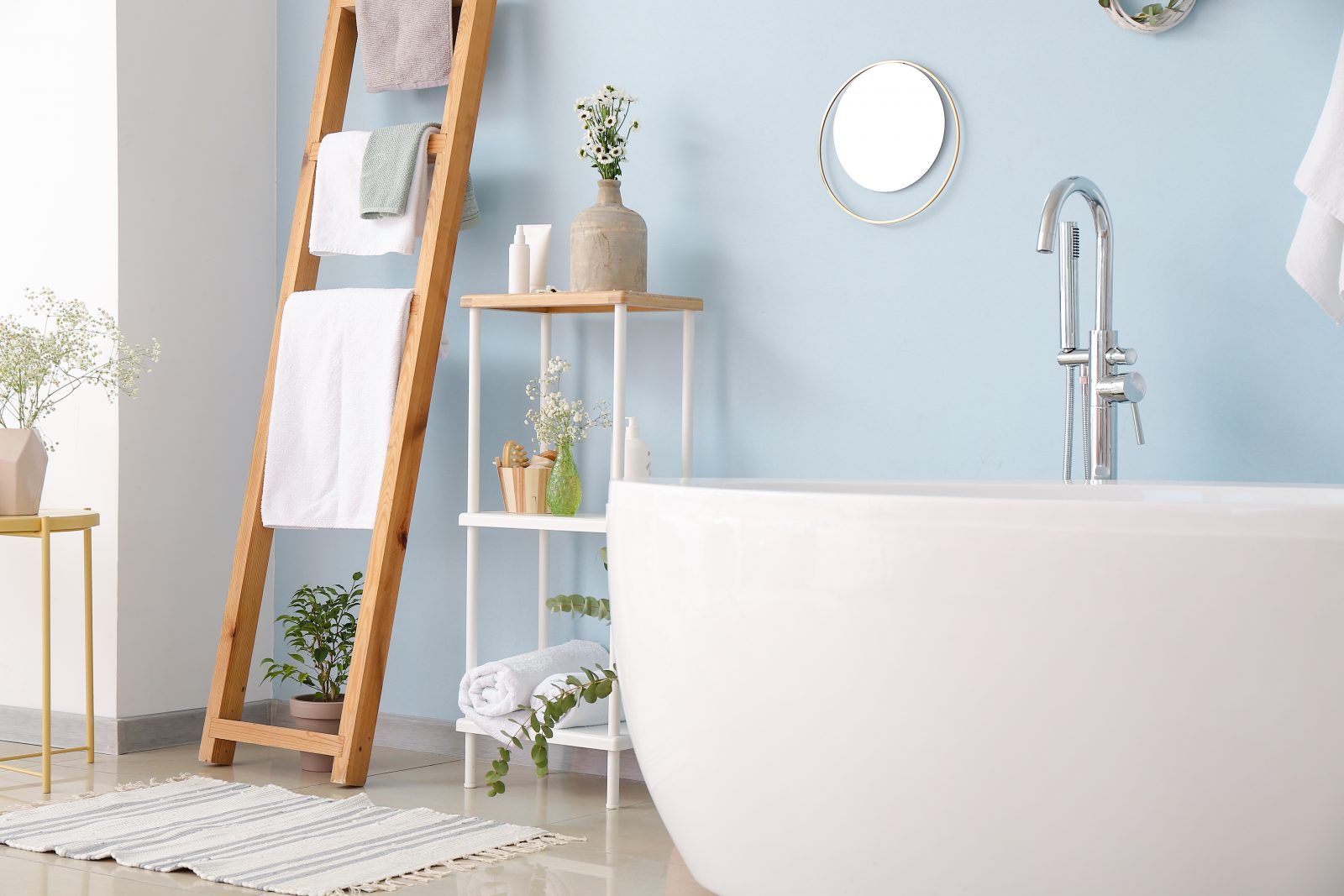 This Shade Awakens Hope and Calm Tensions
Blue comes in a multitude of tones, ranging from pastels to navy. This colour is truly timeless. Some shades are trendier than others but Simple Serenity – 0614 will definitely stand out from the crowd in 2021.
Nominated colour of the year by our team of experts, Simple Serenity can be used with flair in every room of the house from the basement to the attic. It is said of this shade that it awakens hope and calm tensions. If at first glance, this delicate blue gives off a lot of softness, you will notice that it can still add punch to a decor that is meant to be more vibrant. Read on to find out how Simple Serenity can beautify every room in your home.
In the Bedroom to Fight Insomnia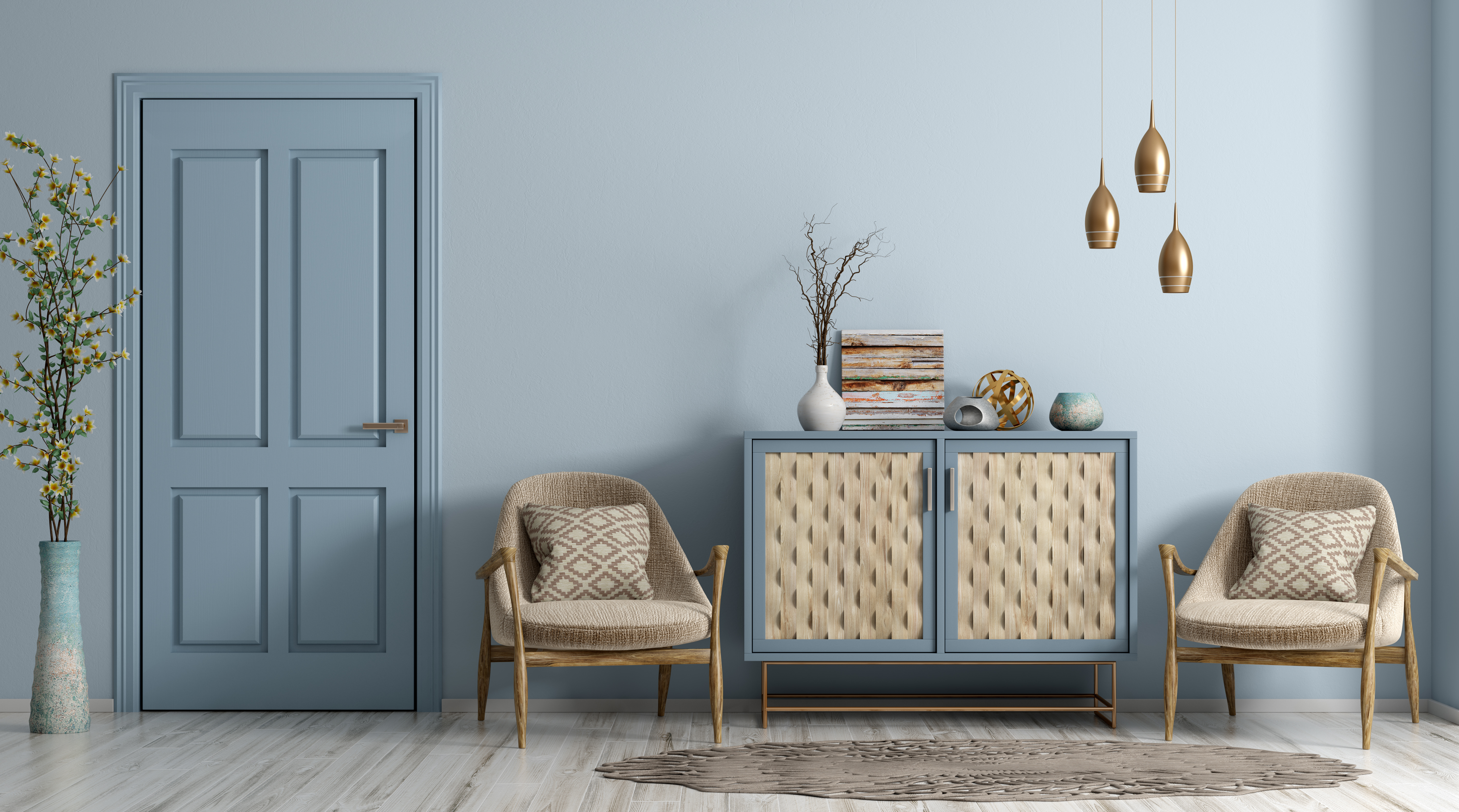 Did you know that blue is the most common colour used in the bedroom? It is used in perfect harmony from the nursery to the master bedroom. It's not surprising that this colour has the power to appease. Especially when the shade has a velvet touch like Simple Serenity. You can paint an accent wall in your bedroom or add accessories such as a duvet, curtains,  rug or storage box in this colour. This blue goes with everything!
Pro Tip : Velvet furniture is in vogue! A reading chair designed in this material will fit perfectly with Simple Serenity and give your bedroom a sophisticated look.
Relieve Stress While Working From Home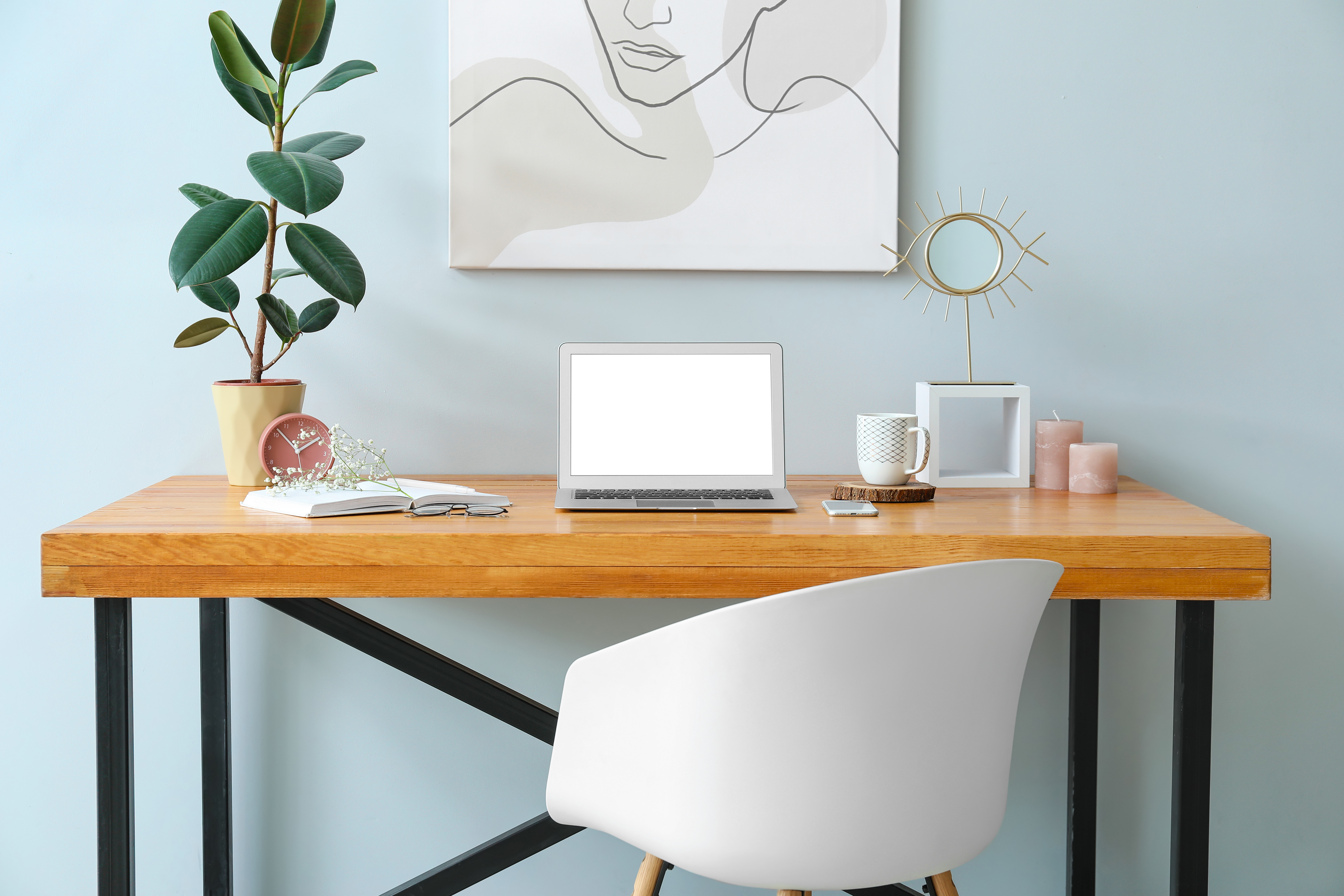 If there's one place that can cause stress, it's the home office. Whether you are calculating your bills or finishing a last-minute presentation for work, you deserve a Zen space! Our Simple Serenity is the perfect colour for this room! There are many accessories available in stores with this shade such as flower pots, picture frames or storage baskets. You can also decide to paint your workstation blue for a great look and feel. To define an office area in a multifunction room, add a blue frame on the wall and install your equipment inside this area.
Pro Tip : Give a touch of romance to your home office by combining Simple Serenity with pastel colours.
Charm Your Guests in the Kitchen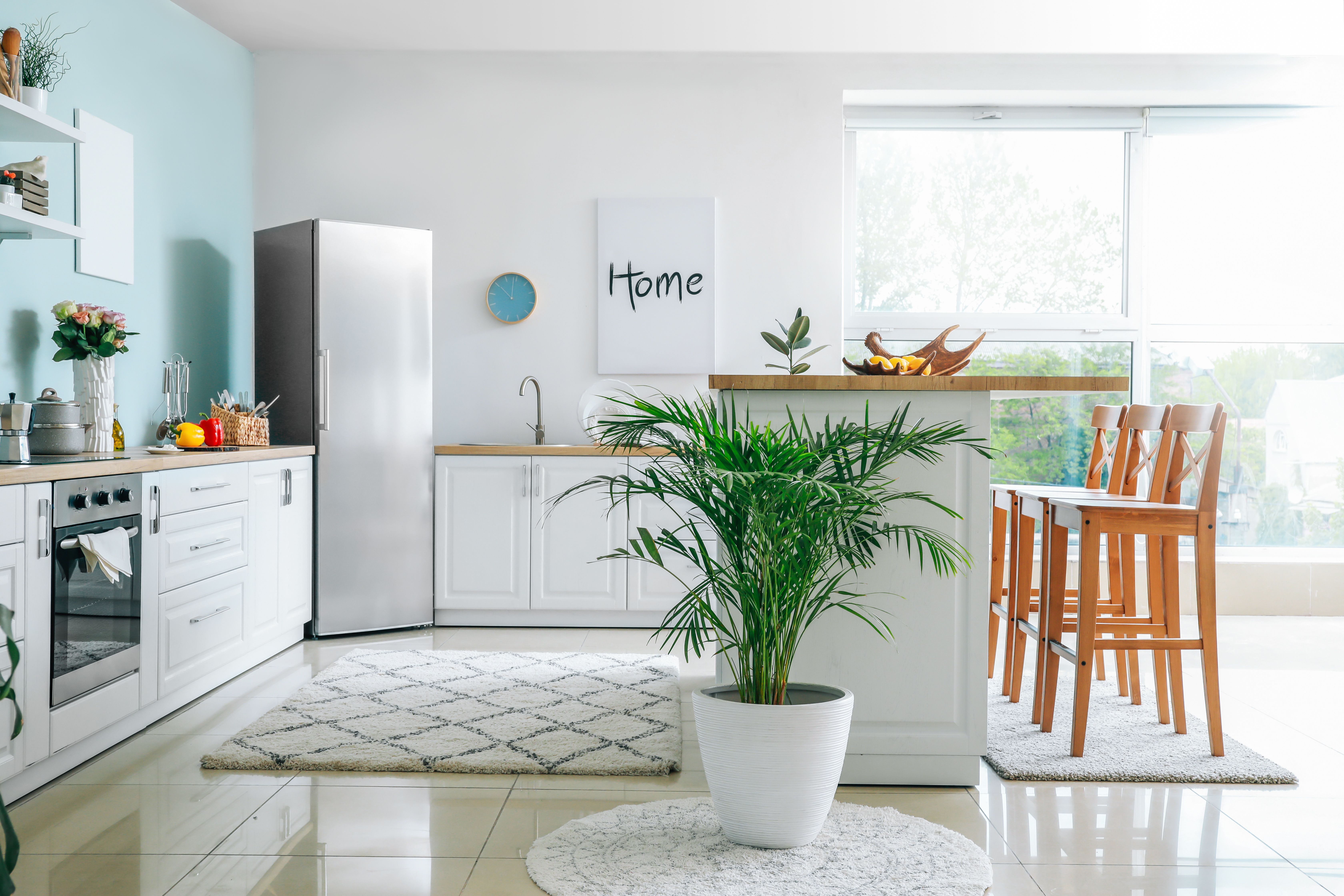 Increasingly, designers are creating busy decors. This trend is the complete opposite of the minimalist styles that have been going on for the past couple of years. This results in creating a very welcoming environment. Soft blue is perfect for a kitchen or dining room because it is soooo inviting.
Plus, it opens the appetite! It can be integrated in the form of porcelain on the backsplash or even on the floor for the more daring. Old-fashioned cabinets can be repainted in this shade to bring the kitchen to life. Running out of storage? Rustic blue wood shelves and decorative sky-coloured bowls will complete your arrangement.
Pro Tip : If  you are worried about regretting your colour choice,  instead of painting an entire wall or your cabinets, turn to blue accessories like stools or vases instead. You can replace them when you need a change, without having to renovate everything!
Transforme your bathroom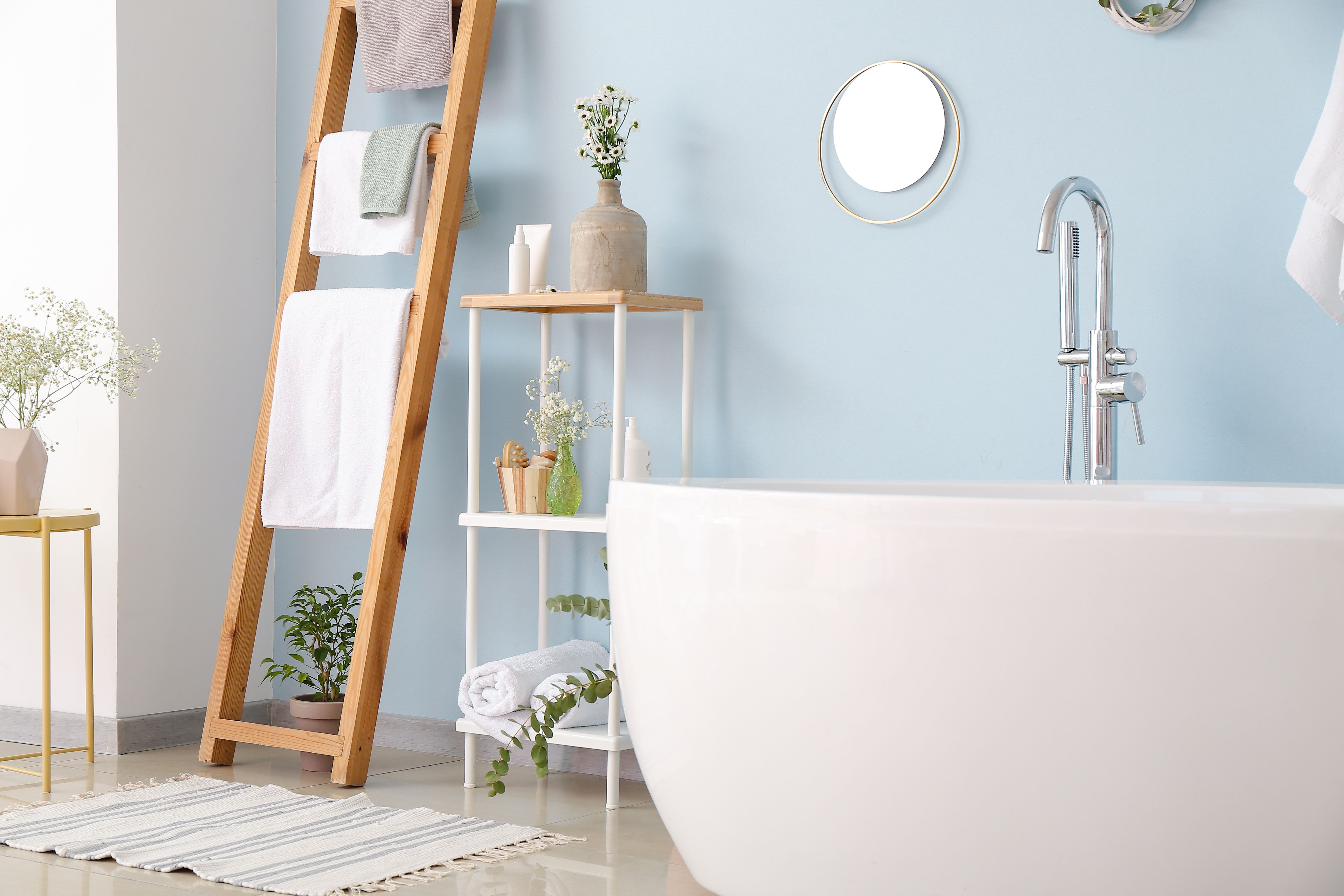 Simple Serenity is the perfect colour for your bathroom walls. It's relaxing and reminds us a little bit of the sea. There are many trendy ceramics out there you will definitely find something interesting on the market. You can use your tiles in the shower from blue to white for an original look. Colourful freestanding baths are also very popular: why not choose blue? If you prefer keeping your walls white add small accessories – such as pretty rolled up towels, candles or pictures – they will certainly bring a calming effect to your bathroom.
Pro Tip : You have a tiny bathroom? Simple Serenity's pale shade can be used on the walls without over clustering your space. It is preferable that the rest of the decoration stay in neutral colours such as white or cream.
Calm the Kids with Simple Serenity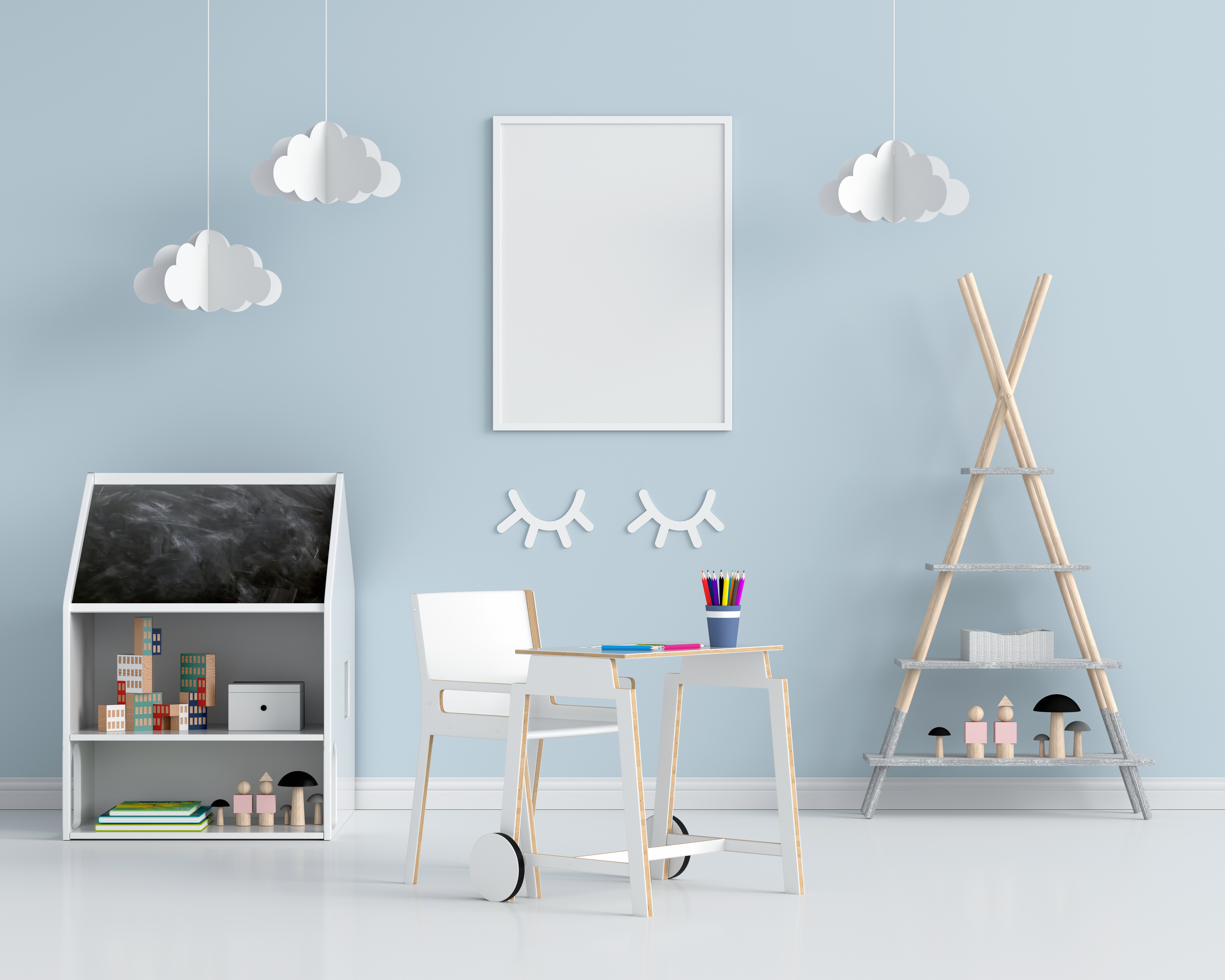 In a room intended for children, all colours (and follies!) are allowed. You can use our colour of the year 2021 on the walls, but also for various storage such as chests, furniture or boxes. With paint and masking tape, you can make design original walls (geometric shapes, abstract mountains, etc.). A hanging chair will beautifully complete the decor of a bedroom or playroom.
Pro Tip : We can't promise you that this blue will calm your kids down, but this shade will certainly stimulate their creativity! In a games room, dare to mix Simple Serenity with other colours such as pink, yellow and red.