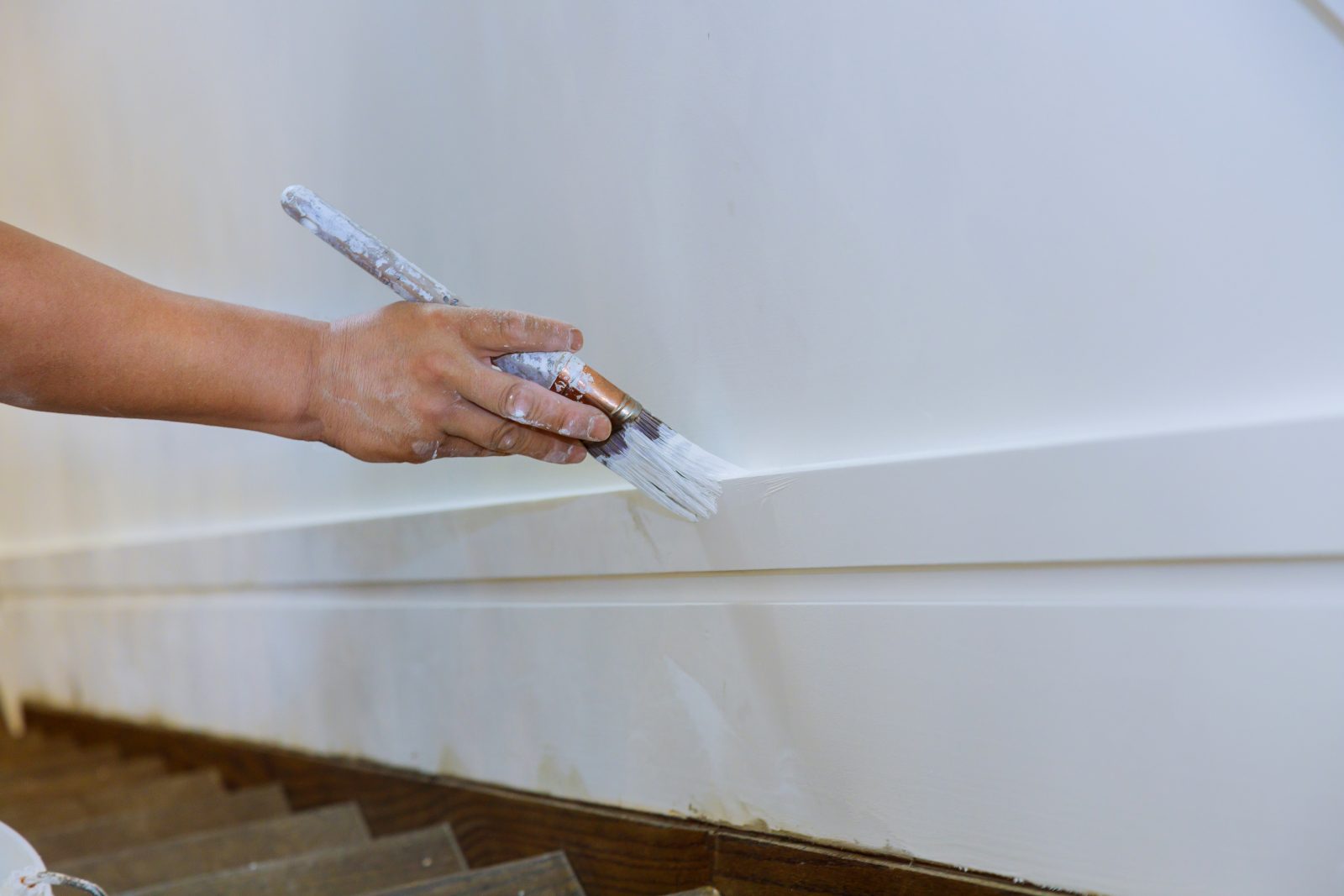 Do you want to paint or refresh the look of your doors, window, frames and mouldings? If you want stunning, long-lasting results, turn to the experts at MF Paints. As your go-to paint and stain manufacturer and distributor in Quebec, we know this task requires considerable patience, attention to detail and, of course, high-quality products. Here are our tips for how to get the job done right.
Choose the right paint
Start by choosing the right paint. If you want durable, long-lasting results, high-quality paint is a must. The right product will also make cleaning your frames and mouldings a breeze. For optimal adhesion, make sure you choose a paint that's suitable for the surface you plan to paint, whether that's raw wood, pre-finished particle board or something else.
The colour you choose depends entirely on the look you're trying to achieve. If you want a bold, contrasting look, choose black or white. If you're set on white mouldings, match the colour to any nearby white walls to avoid giving your mouldings the appearance of a yellow or blue hue. If you want something more subtle, simply use the same paint colour as your walls. For the best results, use a paint with a semi-gloss or pearl finish, such as Summum 3700 and 3200.
Pick the perfect primer
It's important to choose a primer that's specifically designed for the surface you plan to paint. Brand-new mouldings already come with a protective coating and, therefore, don't require primer. However, primer is a must when painting bare wood mouldings. We recommend using Adhero Hybrid 297 on most projects, since it's easy to apply, dries quickly and seals just about any type of surface. If you're painting wood that's prone to bleeding, such as pine, we recommend using Stop Plus 298. It seals stubborn knots and prevents yellowing. We also recommend finishing off your project with a coat of Block Plus 296 for added protection.
Steps to follow
Painting mouldings takes time as it's important to follow certain steps to achieve optimal results. Here are three steps you shouldn't skip.
Purchase the required materials. On top of buying the right paint, you may need to purchase primer, sandpaper, a universal degreasing cleaner (TSP), paintbrushes, a roller, painter's tape and maybe even a spray gun. Depending on the width of your mouldings, using a 1.5- or 2.5-inch paint brush is best.
Prepare the surface. If you're painting pre-existing mouldings, use plastic sheeting and painter's tape to protect your walls, ceiling and floor. We also recommend removing any doors to make it easier to work around the frames. Whether your mouldings are new or not, it's important to start by cleaning them. Use a slightly damp cloth to wipe down new mouldings, or use TSP to clean previously painted mouldings. Allow them to dry thoroughly before moving on to the next step. If necessary, use 180-grit sandpaper to smooth out any imperfections. Then, apply the primer according to the manufacturer's instructions.
Apply the paint. Always work from the top down when painting. Start with the mouldings, windows and door frames, and finish with the baseboards. Ideally, apply two coats of paint to ensure uniform results and follow the drying time indicated on the product between each coat. Gently remove the painter's tape before the paint is completely dry for a crisp line.
New frames and mouldings
Some MDF mouldings come pre-primed. However, the primer that's used in the factory isn't always designed to be handled. Therefore, the first coat of paint may go on tackier than expected when using a brush. This can be minimized by applying a Block Plus 296 oil-based primer to seal the surface. In most cases, applying a water-based primer or using two coats of paint will provide a good finish. It's a good idea to paint a small section beforehand as a test to help you make the right choice. 
If you're installing new mouldings, consider applying the first coat of paint before you attach them to the wall to simplify the task of painting. Use a brush or spray gun to apply the paint or a roller for flat mouldings. We recommend using a 10-millimetre roller or a five-millimetre one for a thinner coat. If there are small imperfections, you can lightly sand in between coats.
Once you're ready, install your mouldings and cover the nails with wood putty using your finger or a small spatula. Then, sand away any excess and finish it off with a second coat of paint.
Doors
You can paint new doors with Summum paint straightaway. If the door was previously painted, clean it with TSP and sand off any remaining paint beforehand. If possible, disassemble the door and use a spray gun for the best finish. Apply thin coats to avoid dripping. If you're using a spray gun, you can thin the paint by adding five to 10 per cent water. Otherwise, use a 10-millimetre roller and apply it from top to bottom.
MF Paints: Quebec's premium paint manufacturer for more than 50 years
At MF Paints, we're committed to helping you realize your projects by designing specialized products in Quebec. Visit your local MF Paints retailer to stock up on high-quality paints.