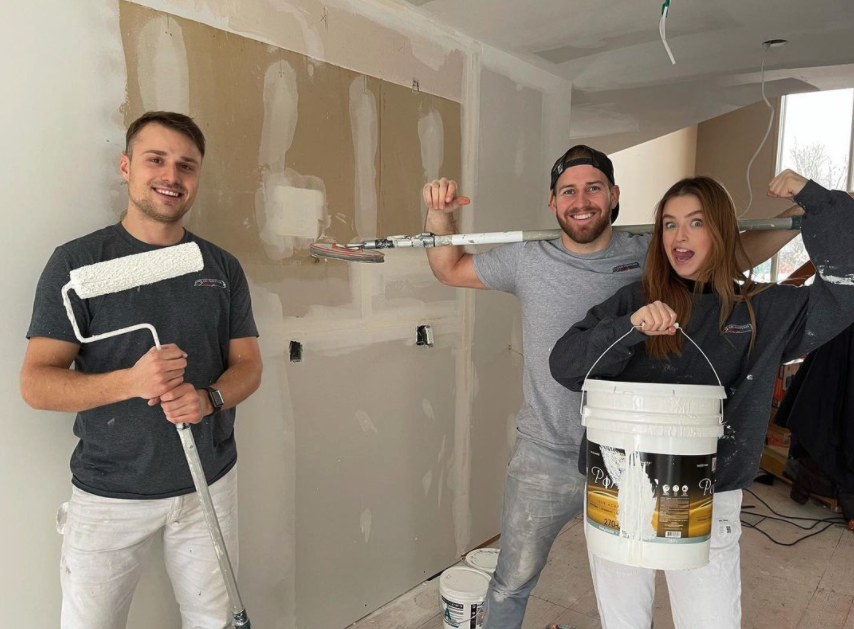 Picture from Instagram account Les Peintures OM.
Do you need to paint your ceilings, walls, floors, patio or siding? If so, hiring a professional painter or painting company will ensure you get the best results. The experts at MF Paints, a manufacturer that produces high-quality paint in Quebec, has put together a few tips to help you find the right painter for your project.
What makes a good painter?
First and foremost, you must hire a painter that's qualified. Although you can hire an unlicensed painter to paint your home, you must hire an RBQ certified painter if you want to paint a rented property or multi-unit building. Plus, hiring a licensed painter will ensure you won't be held liable if something goes wrong.
In addition, the painter you choose should be insured, transparent about their fees and available to meet your deadline. They should also be thorough and take pride in their work.
How to find a professional painter
Start your search by determining your needs. For example, do you need an interior or exterior surface painted? Also, residential, commercial and industrial properties require different kinds of painting specialists. Furthermore, consider whether you need a simple touch-up or a complete paint job.
You can find potential painters by browsing the internet or consulting with friends and family. However, don't let them make the decision for you. Make sure to also check online reviews to ensure previous customers were satisfied with the painter's services.
Finally, come up with a list of at least three potential painters and ask each of them for a quote. Keep in mind that some professional painters offer in-home consultations to more accurately assess the nature and scope of the job. Carefully compare the quotes to determine which one meets your needs and budget. Don't hesitate to ask questions about anything you don't understand. Above all, you should choose a painter or painting company you feel confident in.
Questions to ask your painter
There are a few things you should discuss with your painter before you give them the go-ahead on your project. Here are some of the most important questions to ask.
How many coats will you apply?
The type of surface as well as its current colour and final colour will determine how many coats of paint are required and if a primer should be used. Beware of painters who say one coat is enough.
Who will pay for the paint?
If you hire a private, self-employed painter, you'll likely need to pay for the paint yourself. If this is the case, make sure you find out which products are needed. However, painting companies often include the price of paint in their quote.
Does the quote include surface preparation?
Surface preparation is a crucial step in the painting process. Taking the time to clean and repair the area that needs to be painted ensures long-lasting results. Depending on the area, it may need several touch-ups. Therefore, if the painter doesn't include surface preparation in their services make sure you find someone who can perform this step.
Do you have previous experience with this type of project?
Hire a painter with experience. If they've completed projects like yours before, they'll be able to provide you with service that's tailored to your needs and meets your expectations. Additionally, the painter will know which products to use to achieve the best results.
How to save money
If you want to save money and avoid the need to repaint soon after the job is done, the painter must follow certain steps. This is because poorly applied paint can chip, crack and fade. If necessary, seek professional advice. MF Paints offers personalized customer service. Contact a local retailer or reach out via social media.
Do you want to save money on your bill? If so, there are several things you can do. For example, you can wash and repair the surface yourself. You can also reduce costs by covering your furniture and other large objects yourself. Finally, keep an eye out for promotions to see if you can score a deal.
MF Paints: your paint and varnish experts
At MF Paints, we develop, manufacture and distribute professional quality products for homeowners, contractors, designers and architects. Whether your project is big or small, we have a product to meet your needs. Visit an MF Paints retailer near you to get the paint you need or inquire about hiring a professional painter.