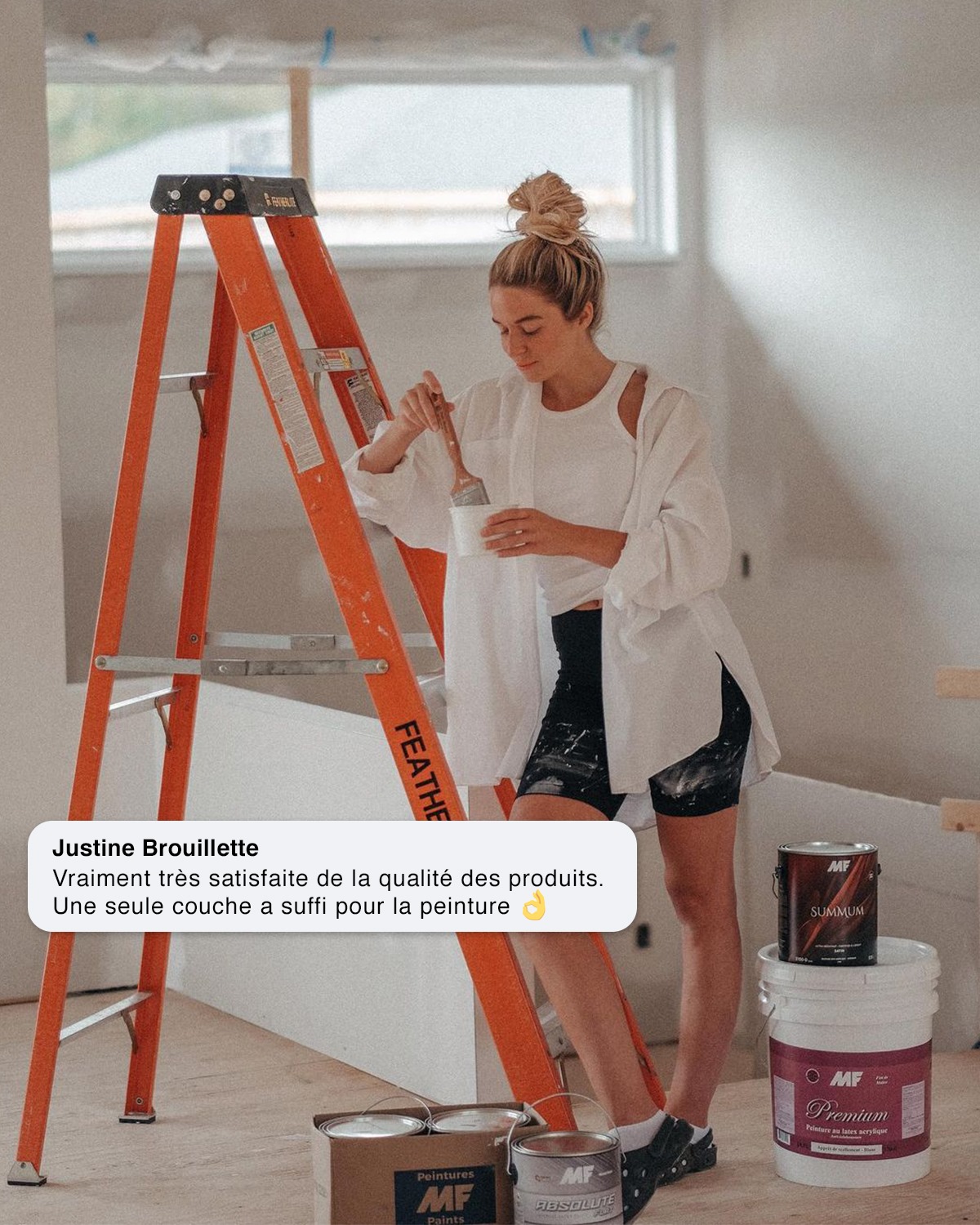 Do you have an upcoming renovation project? Are you wondering if 100% acrylic paint fortified with silicone epoxy will do the trick? At MF Paints, we manufacture high-quality paints, stains and varnishes, and we're committed to helping people across Quebec put the finishing touches on their projects. Keep reading to find out if Summum paint is right for you.
1. What sets Summum paint apart from other paints?
Summum paint is fortified with siliconized epoxy, making it ideal for commercial, institutional and residential use. Here's an overview of some of its advantages:
It's more durable than conventional paint. In fact, it's four times more resistant to colour rub-off than 100% acrylic latex paint. It's also extremely resistant to heavy traffic and harsh cleaning products. In addition, it takes only 30 days to cure to 90 per cent.
It doesn't contain any volatile organic compounds (VOCs). Therefore, it's ideal for LEED-certified projects and people who don't want to use VOC-based paints because of their harmful effects on human health and the environment.
It provides a soft, smooth finish with excellent levelling.
It can be applied to a variety of surfaces without a primer. However, for a full list of limitations and recommended primers for them you can consult the product's technical data sheet.
It uses self-crosslinking technology, which promotes a strong and durable chemical bond and prevents the growth of mould and mildew.
Summum paint is the perfect choice for high-traffic facilities that require frequent cleaning. In addition, it's suitable for humid and poorly ventilated areas that are susceptible to mould and mildew. Additionally, Summum paint dries quickly, so you don't have to worry about extended downtime. For example, a restaurant could open its dining room soon after being painted with Summum paint.
2. The best applications for Summum paint
Summum epoxy fortified paint is surprisingly versatile. It's often used by professionals because it has little to no odour, contains no VOCs and offers superior durability. This makes it ideal for both interior and exterior projects. It can be applied to a variety of surfaces, including drywall, concrete, wood, aluminum and vinyl. It's suitable for walls, doors, mouldings and frames. 
Summum paint is also suitable for bathrooms because it contains a fungicide that prevents mould and mildew growth. It's also great for painting kitchens because of its ability to withstand frequent cleaning. For this same reason, it can also be used in commercial and institutional establishments.
3. Recommendations for applying Summum paint
Whether you opt for a satin, pearl, semi-gloss or ultra-flat finish, you must take into account the product's limitations. For example, you must not apply Summum paint at temperatures below 10 degrees Celsius. It must also not be mixed with other paints or used on floors. You can refer to the product's technical data sheet for a full list of limitations and recommended primers for them. For example, previously painted surfaces, drywall, concrete, wood and metal all require different primers.
Before painting, the surface must be clean, dry and free from dust, grease, mildew and rust. We recommend cleaning the surface with TSP to remove any dirt and debris that could prevent the paint from curing. If the surface is covered in peeling paint, you can remove most of it with a scraper, use repair compound to fill any holes and sand down the surface with #100 grit sandpaper for a smooth finish.
Once the surface is ready, apply an even coat of paint to the desired surface and allow it to dry for the required amount of time. Depending on the colour, it can take between three and six hours. You can apply a second coat once the first has dried. For best results, we recommend using a 15 mm lint-free roller and a high-quality nylon-polyester paintbrush. If you plan on using a spray gun, refer to the product's technical data sheet for the correct dilution percentage and pressure.
MF Paints: your go-to paint and coating specialist
At MF Paints, we carry high-quality paint products, including topcoats, stains, varnishes, solvents and more. Whether you have a small or large renovation project in mind, we have what you need. Visit your nearest MF Paints retailer to purchase one of our products or get personalized advice on your next project.